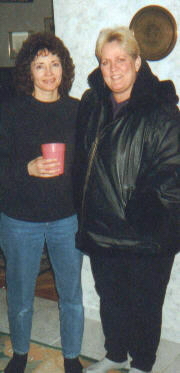 Paula found an immediate soul-mate in Dorcas Helton. They both share a love for the Lord, a love for their husbands and a zeal to share the love of Christ with others.

Dorcas plays the keyboard for the Praise Band and also counsels and teaches a Women's Bible Study. She is also the regular host to all of the visiting professors at the Seminary and demonstrates a wonderful gift of hospitality to all.

Addressing the chapel of the Christian school, Paula uses the parable of the Good Samaritan to speak to the issue of racial prejudice. To make her point, she segregates all of the brown-eyed students from all those who have blue and green eyes and speaks about the feelings that are engendered by this sort of discrimination and how this is contrary to the love of Christ. It is an effective lesson.

The Christian school has been instituted with the expressed purpose of providing a core of educated, English-speaking students who will be able to one day enter the Seminary and be trained to be the new Christian leaders of the churches. We are amazed at their proficiency in English, for they have no trace of the Russian accent that is so common among the College students. By the time they are in fifth grade, these Russian-speaking students are learning English, Romanian and German.